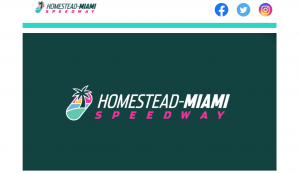 As the NASCAR Playoffs return to South Florida, there will be a new look and feel for Homestead-Miami Speedway. The area is a melting pot of everything South Florida has to offer. From the night life and sunny beaches of South Beach to the calm of the Keys, they've got it all.
It is  a vacation destination boasting an infield beach, container bar and fast cars. A world-class culture clash with off-the-charts competition. At Homestead-Miami Speedway, it is anything but ordinary.
October 22 – 23, 2022 there will be the Dixie Vodka 400 triple-header weekend. The competition on our 1.5 mile oval is unmatched. Join us as we embark on a new era with the Next Gen car!